ICE CREAM, COFFEE, TEA AND FRESHLY BAKED MIDDLE EASTERN SWEETS & EATS
We are a family owned Middle Eastern bakery and sweet shop. We offer everything from authentic baklava and Turkish delight, to freshly baked Middle Eastern Pizza and Arabic flatbreads, to over 20 different ice cream flavors! We are also your best source for Arabic Coffee and tea. Stop in today and enjoy and enjoy options for the whole family!
The largest selection of Baklava & Turkish Delight in St. Louis! Over 20 types of authentic Middle Eastern sweets sure to satisfy any sweet tooth. Try some today!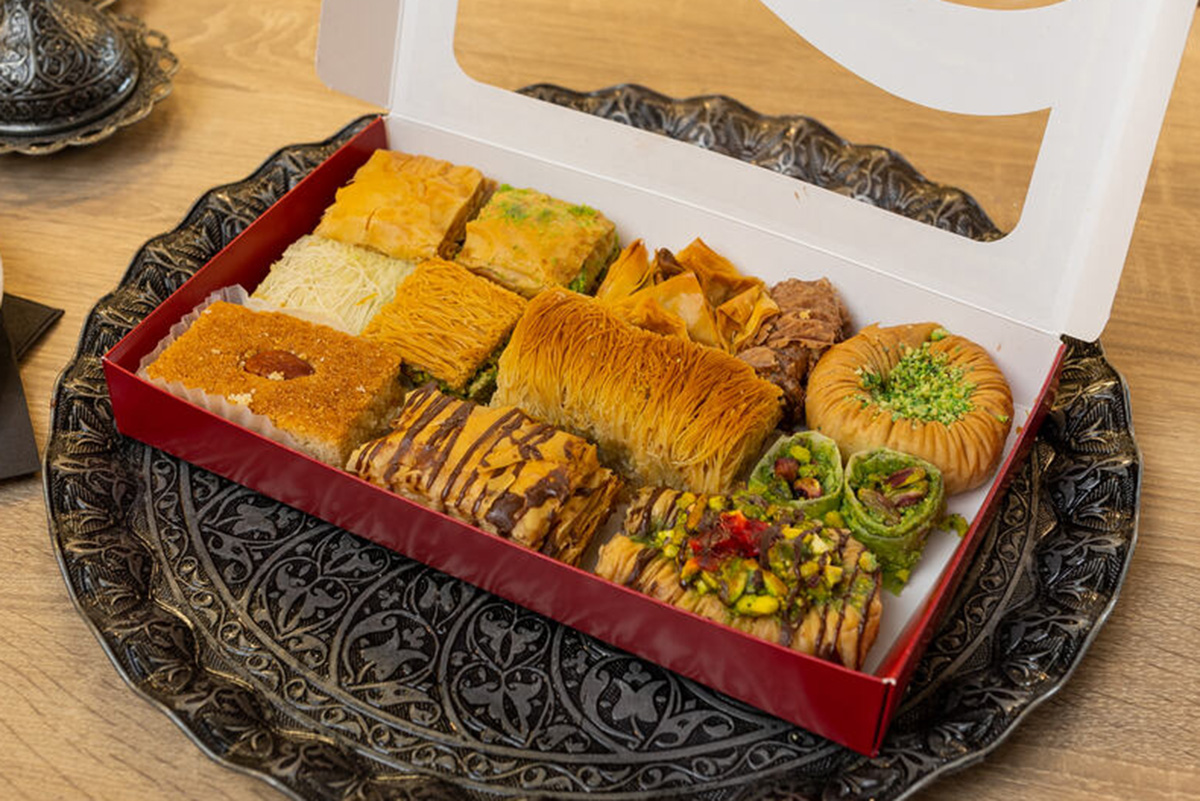 From the Hearth - Arabic Pizza
Personal sized Arabic Pizza cooked while you wait. Many toppings to choose from. Pide & Manaqeesh made to order – catering available.
Only available at our WEST COUNTY (Manchester) location.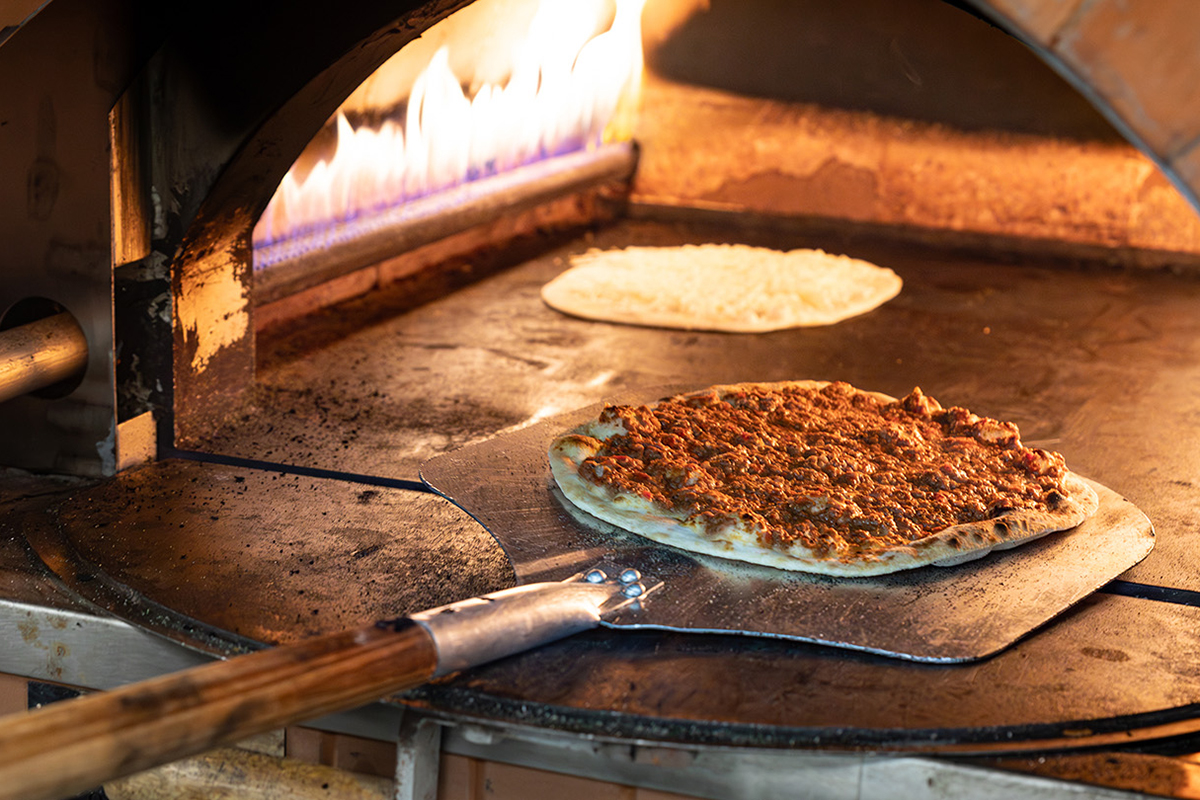 Need something to drink? We offer a variety of Arabic Tea & Coffee plus other hot & cold favorites to complement our baked goods or enjoy them on their own as an anytime pick-me-up!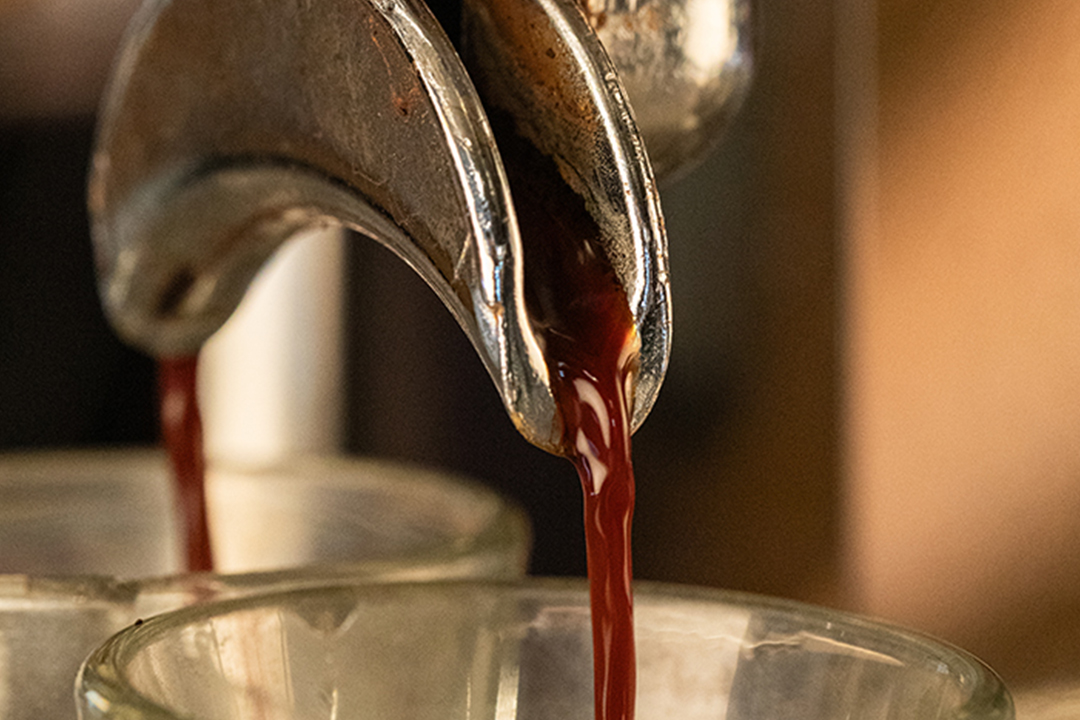 Hand Dipped, Old Fashioned Cedar Crest Ice Cream in 20 delicious flavors. Enjoy a scoop in a cup or waffle cone, or pair it with baklava for the ultimate sweet treat!
Artisan Baklava – we carefully craft and freshly bake our 20 types of authentic Middle Eastern baklava to satisfy any sweet tooth. Come experience the layered goodness for yourself!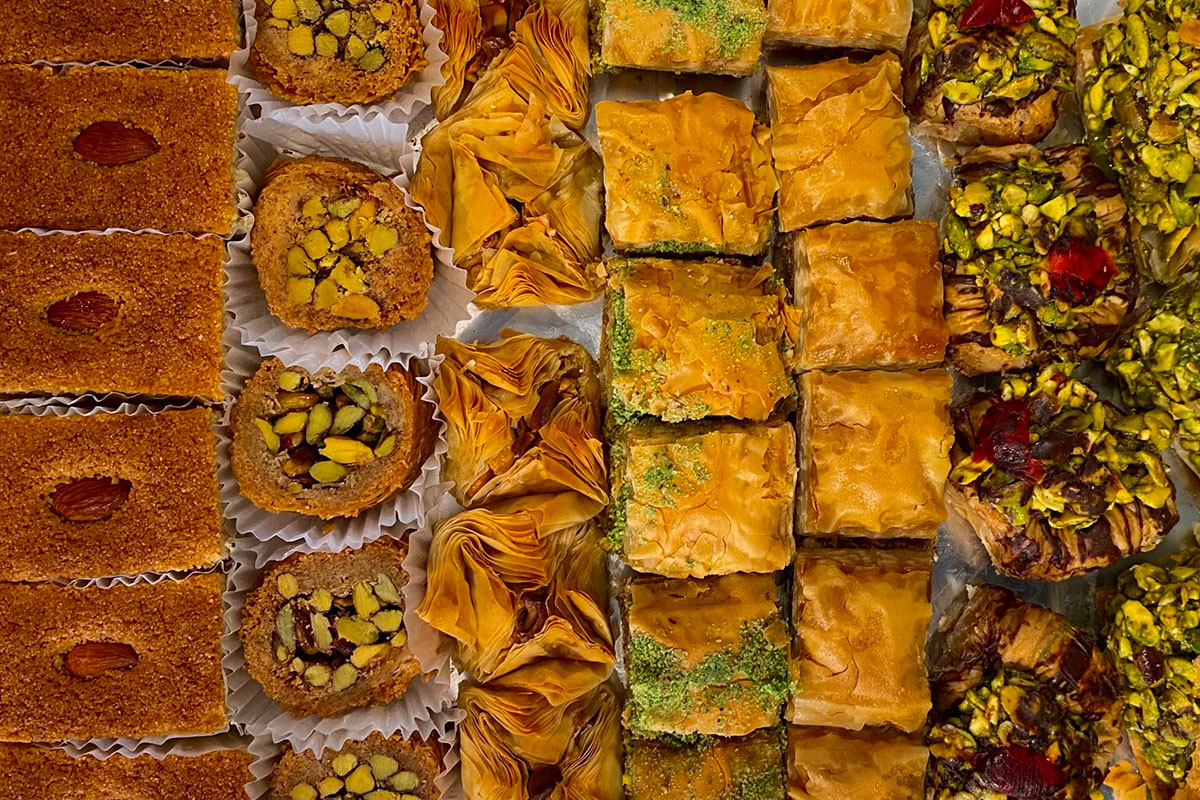 A Middle Eastern dessert made with spun pastry called kataifi, soaked in a sweet syrup called attar, and typically layered with cheese, clotted cream, or pistachio & nuts – prepared fresh for you.
The largest selection of Loqhum/Turkish Delight in St. Louis! You're sure to find a few flavors that you'll love…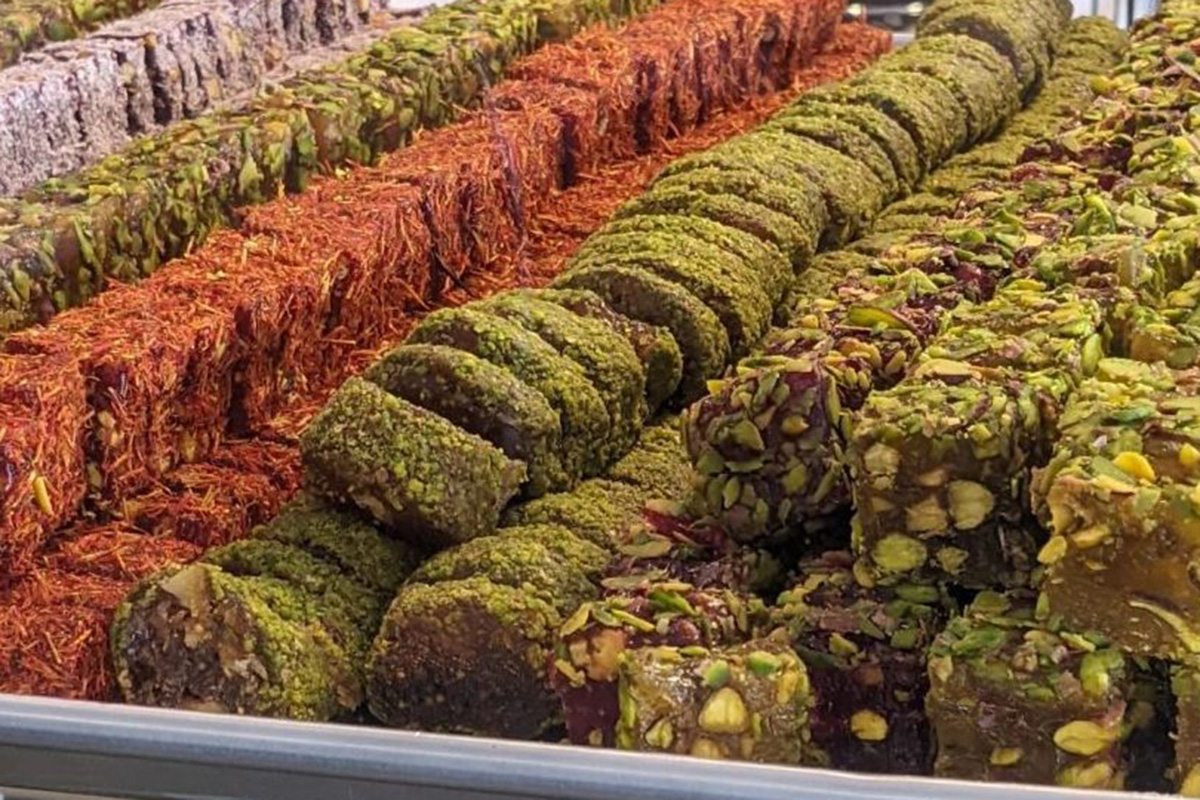 Sedara Sweets & Eats | Affton
Sedara Sweets & Eats | Manchester
Delicious delights!!!! A plethora of baklava, a dynamic choice of ice cream, delicious shake options, and coffee and cold drink options make this a must stop. And they are open late, are you kidding me?! This is a perfect spot for coffee with a friend, place to read with coffee and treats, or after dinner sweet spot!

M Howard


This place is amazing. I've been wanting to come here for the longest time. My children, grandchildren and I were leaving a restaurant after eating lunch and we all wanted something sweet but didn't want anything from the restaurant. Then I remembered this place. Let me tell you, all of the baklava is so good, so many different flavors. We also tried the different espresso coffees and those were perfect. My son wanted ice cream, and he thought it was really good. The young gentleman who helped us with everything was so nice, very patient and efficient. The atmosphere was foreign, but divine. We will absolutely be coming back here!

Jaime Odom


Great place! Had hot and iced coffee both very well made and tasty. We tried the chocolate pecan baklava and it was delicious! Great atmosphere will be back to try the various ice cream flavors!

William Vallellanes


Love the coffee and baklava. My son hits the ice cream pretty hard and husband likes the gummy thingies i can't remember the name of. They are always kind and courteous.

Carol Boss (CarolBossArt)


I have to admit the ice cream is what caught our eye after going to Mike's Italian beef next door. Well we did get the ice cream. We also walked away with a number of traditional Middle East desserts. All of the desserts we got were delicious, including the baklava and the harissa cake. I also got some kind of Iraqi bird nest that involved filo dough and a big pile of pistachios. The only thing I wish is that they had the price is posted of what you were choosing but rest assured nothing is overly expensive. I think the most I paid was $3 for one thing. Pick out anything from the counter and surely you will enjoy it. Be adventurous. You can never go wrong with baklava. Edit: went back here again for the first time after 9 months and it is still amazing. They also posted papers with descriptions of the desserts.

Nathan Powers


I love all the baklava! The place is elegant and clean. Would definitely come back again.

Irish Racion


Unique Turkisk dessert shop. Also have ice cream. Their specialty is different types and flavors of baklava. Lots of pastries with honey, pistachio, other nuts, and pomegranate. Great decor as well. Will be back.

Barry G


Super cute space! Lots of selections of ice cream. Took home to bundles of baklava! Staff was super friendly and helpful. My 11 year old was undecided and she let him taste test a couple to help make his decision. The small bowls of ice cream were quite large and exactly what we needed.

Jessica Gross


Amazing sweets! I haven't seen this variety of baklava since EPCOT. We got the $29.99 box and fit a nice assortment of desserts to try. We'll definitely be back with friends!

Cindy La


The baklava was delicious! Sam N is very friendly & helpful! The group before us had several questions about the desserts & he was so kind and patient.

Ines Kladnjakovic


When I saw Sedaras was going to open I admittedly got excited. I always get excited when Affton gets a cool new business. Sedara has amazing Middle Eastern baklava and other sweets. They also have ice cream, delicious Turkish coffee, and the seating area is very nice if you want to stay and eat/drink your treats. I recently took my mom to Sedara. She loved everything as much as I do. 10/10 will return, would recommend!

Amy Gee


Great selection of baklava and Turkish sweets. We also had a couple of great Turkish coffees. Ice cream selection is good also, if fairly standard.

Stewart Drolet


Found this place pretty much randomly while driving. Tried their baklavas and ice cream. Both are great. Especially the variety and freshness of baklavas are main reasons for me to be revisiting Sedara again. Nice interior design. Don't forget to have your discount coupon to be used at your next visit. Great service and welcoming place to have a coffee and sweet! Thanks

Gokhan Egilmez


Had several pistachio treats and they were so good. Went back the very next day for more. They were so nice too

Becky Snella Day


Very friendly service and nice ambiance. I will be making this a regular stop when I'm in the neighborhood. The sweats are delicious and accessible to anyone with a remotely diverse palette. The savories are also delicious. We found them to be a perfect fusion of middle eastern food with an american twist. Great coffee.

James Germain


Every piece of Turkish delights I've tried from there have been nothing but amazing! Fantastic assortment of baklava as well. Love this place

Brett Bertschinger


I have to admit the ice cream is what caught our eye after going to Mike's Italian beef next door. Well we did get the ice cream. We also walked away with a number of traditional Middle East desserts. All of the desserts we got were delicious, including the baklava and the harissa cake. I also got some kind of Iraqi bird nest that involved filo dough and a big pile of pistachios. The only thing I wish is that they had the price is posted of what you were choosing but rest assured nothing is overly expensive. I think the most I paid was $3 for one thing. Pick out anything from the counter and surely you will enjoy it. Be adventurous. You can never go wrong with baklava.

Nathan Powers


A true gem! Huge selection of sweets. Everything I've tried so far is excellent. Their kanafeh is my favorite. Nice, clean and neat place. Staff is very friendly. Can't give any less than 5 stars

Vin Miller


So far, the best baklava in st. Louis. The hay stacks are soo good. The baklava is not completely soaked in honey which I found to be a positive. The layers are crispy, moist and full of flaky goodness. The Turkish delights are chewy and lightly flavored. I'm absolutley in love with this yummy land of baklava and delights!

Kris Lugosi


Great Baklava. The best I have had in Saint Louis

Sahar Abdellatif

Sedara Sweets & Eats | Affton
Sedara Sweets & Eats | Manchester
Delicious delights!!!! A plethora of baklava, a dynamic choice of ice cream, delicious shake options, and coffee and cold drink options make this a must stop. And they are open late, are you kidding me?! This is a perfect spot for coffee with a friend, place to read with coffee and treats, or after dinner sweet spot!

M Howard


This place is amazing. I've been wanting to come here for the longest time. My children, grandchildren and I were leaving a restaurant after eating lunch and we all wanted something sweet but didn't want anything from the restaurant. Then I remembered this place. Let me tell you, all of the baklava is so good, so many different flavors. We also tried the different espresso coffees and those were perfect. My son wanted ice cream, and he thought it was really good. The young gentleman who helped us with everything was so nice, very patient and efficient. The atmosphere was foreign, but divine. We will absolutely be coming back here!

Jaime Odom


Great place! Had hot and iced coffee both very well made and tasty. We tried the chocolate pecan baklava and it was delicious! Great atmosphere will be back to try the various ice cream flavors!

William Vallellanes


Love the coffee and baklava. My son hits the ice cream pretty hard and husband likes the gummy thingies i can't remember the name of. They are always kind and courteous.

Carol Boss (CarolBossArt)


I have to admit the ice cream is what caught our eye after going to Mike's Italian beef next door. Well we did get the ice cream. We also walked away with a number of traditional Middle East desserts. All of the desserts we got were delicious, including the baklava and the harissa cake. I also got some kind of Iraqi bird nest that involved filo dough and a big pile of pistachios. The only thing I wish is that they had the price is posted of what you were choosing but rest assured nothing is overly expensive. I think the most I paid was $3 for one thing. Pick out anything from the counter and surely you will enjoy it. Be adventurous. You can never go wrong with baklava. Edit: went back here again for the first time after 9 months and it is still amazing. They also posted papers with descriptions of the desserts.

Nathan Powers


I love all the baklava! The place is elegant and clean. Would definitely come back again.

Irish Racion


Unique Turkisk dessert shop. Also have ice cream. Their specialty is different types and flavors of baklava. Lots of pastries with honey, pistachio, other nuts, and pomegranate. Great decor as well. Will be back.

Barry G


Super cute space! Lots of selections of ice cream. Took home to bundles of baklava! Staff was super friendly and helpful. My 11 year old was undecided and she let him taste test a couple to help make his decision. The small bowls of ice cream were quite large and exactly what we needed.

Jessica Gross


Amazing sweets! I haven't seen this variety of baklava since EPCOT. We got the $29.99 box and fit a nice assortment of desserts to try. We'll definitely be back with friends!

Cindy La


The baklava was delicious! Sam N is very friendly & helpful! The group before us had several questions about the desserts & he was so kind and patient.

Ines Kladnjakovic


When I saw Sedaras was going to open I admittedly got excited. I always get excited when Affton gets a cool new business. Sedara has amazing Middle Eastern baklava and other sweets. They also have ice cream, delicious Turkish coffee, and the seating area is very nice if you want to stay and eat/drink your treats. I recently took my mom to Sedara. She loved everything as much as I do. 10/10 will return, would recommend!

Amy Gee


Great selection of baklava and Turkish sweets. We also had a couple of great Turkish coffees. Ice cream selection is good also, if fairly standard.

Stewart Drolet


Found this place pretty much randomly while driving. Tried their baklavas and ice cream. Both are great. Especially the variety and freshness of baklavas are main reasons for me to be revisiting Sedara again. Nice interior design. Don't forget to have your discount coupon to be used at your next visit. Great service and welcoming place to have a coffee and sweet! Thanks

Gokhan Egilmez


Had several pistachio treats and they were so good. Went back the very next day for more. They were so nice too

Becky Snella Day


Very friendly service and nice ambiance. I will be making this a regular stop when I'm in the neighborhood. The sweats are delicious and accessible to anyone with a remotely diverse palette. The savories are also delicious. We found them to be a perfect fusion of middle eastern food with an american twist. Great coffee.

James Germain


Every piece of Turkish delights I've tried from there have been nothing but amazing! Fantastic assortment of baklava as well. Love this place

Brett Bertschinger


I have to admit the ice cream is what caught our eye after going to Mike's Italian beef next door. Well we did get the ice cream. We also walked away with a number of traditional Middle East desserts. All of the desserts we got were delicious, including the baklava and the harissa cake. I also got some kind of Iraqi bird nest that involved filo dough and a big pile of pistachios. The only thing I wish is that they had the price is posted of what you were choosing but rest assured nothing is overly expensive. I think the most I paid was $3 for one thing. Pick out anything from the counter and surely you will enjoy it. Be adventurous. You can never go wrong with baklava.

Nathan Powers


A true gem! Huge selection of sweets. Everything I've tried so far is excellent. Their kanafeh is my favorite. Nice, clean and neat place. Staff is very friendly. Can't give any less than 5 stars

Vin Miller


So far, the best baklava in st. Louis. The hay stacks are soo good. The baklava is not completely soaked in honey which I found to be a positive. The layers are crispy, moist and full of flaky goodness. The Turkish delights are chewy and lightly flavored. I'm absolutley in love with this yummy land of baklava and delights!

Kris Lugosi


Great Baklava. The best I have had in Saint Louis

Sahar Abdellatif